Cosmetic Dentistry Services Provided in Jamestown, NC
Every smile is unique. It's also probably one of the first features you notice about a person. It is hard not to notice someone's smile. After all, it is a universal greeting. When your smile doesn't look its best you often don't feel your best. We understand that completely! This is why we've made it our duty to help people living in and around Jamestown, NC create their perfect smiles with the help of our cosmetic dentistry team.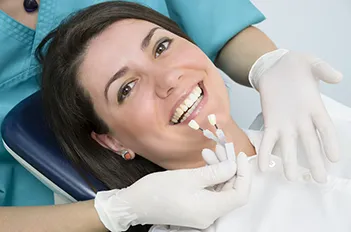 No, cosmetic dentistry isn't just for the Hollywood elite or the rich and famous—anyone can benefit from cosmetic dentistry, and there are a variety of treatment options that can be tailored to fit your needs. We provide all the latest dental technology, and our team stays up to date on the latest dental techniques to ensure that our patients get the very best cosmetic dentistry they can get.

Here at Ray Beshears, DDS we offer the full range of cosmetic services including:
Dental bonding
Tooth contouring and reshaping (we can also reshape the gums, too)
Teeth whitening
Dental veneers
Invisalign
Dental implants
Cosmetic dentistry can address a wide range of imperfections, from covering gaps and making teeth appear straighter to brightening smiles and buffing away small chips and cracks. When you come into our practice, we will get a better idea of what you're looking to achieve with cosmetic dentistry so we can decide which treatment option is best for you.
From there we can map out a treatment plan that will give you the results you're looking for. Cosmetic dentistry can alter and improve the shape, size, length, color, and alignment of one, several, or all of your teeth. The choice is entirely up to you!
To be a great candidate for cosmetic dentistry you only need to have a healthy smile. We will examine your teeth and gums during your consultation to make sure that they look healthy and you're free from decay and gum disease. This is important, as we need teeth to be healthy before we can begin treatment.
If you want a smile that you want to be able to show off for the next five, ten, fifteen years or more, than we want to help!
If You Are Interested In Improving Your Smile With Cosmetic Dentistry, Call Ray Beshears, DDS In Jamestown, NC At (336) 454-6163 Today!