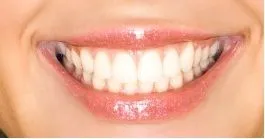 Dental bonding is a procedure in which a tooth-colored resin material is applied and "bonded" to a tooth to restore or improve a person's smile. Bonding is an option that can be considered to repair decayed, chipped or cracked teeth, close gaps between teeth, protect exposed roots, reshape teeth, improve the appearance of discolored teeth, and as a cosmetic alternative to amalgam fillings.
The process of bonding can typically be accomplished in the dental office in just one visit. To begin, the tooth surface is prepared by the application of a conditioning liquid. This liquid makes it easier for the bonding material to adhere to the tooth. Next, the tooth colored putty like resin is applied to the tooth and molded and smoothed to the desired shape. An ultraviolet light or laser is then shined on the resin to harden the material. After the material has hardened, the dentist will shape and polish it to match the sheen of the rest of the tooth surface.
Bonding can be advantageous over crowns and veneers when possible because bonding can usually be accomplished in one visit, is affordable and attractive, and removes the least amount of enamel.